---
We're happy that you take your yoga and travel seriously, and we're here to inspire you to take your personal wellness and self-care just the same! In addition to scouting out the most spectacular destinations and teachers for their retreats, YOGASCAPES also works and finds the most amazing bodyworkers and natural healers on the planet. 
From working with the mystical Kogi people at our Colombia yoga retreat to diving deep into yoga and Ayurevda in Sri Lanka, bathing in sacred water temples in Bali, to soaking up the vibes off the epic hot springs in Iceland and all points in between, there's no lack of unique and powerful experiences to join in on with Yogascapes!

Below you can explore the perfect top destinations list to reflect and commit to a healing experience of self-care. Check out our favorite 10 healing rituals from some of our favorite Yogascapes retreats below!
---
---
---
Sierra Hot Springs is a wonderfully cosy, tranquil destination. With gorgeous views of the sprawling alpine forest and a comfy lounge with a crackling fire, you'll feel right at home.
A retreat to Sierra will take you into a weekend of serenity, where you'll deepen your practice and rejuvenate your body with daily soaks in healing hot springs, wide open mountain prairies, healthy food, juicy, joyful yoga sessions and always an amazing group of people from all over. The Sierra Hot Springs are tucked away in a tranquil forest in the High Sierras; you'll enjoy the views of a vast alpine valley sprawling out to the peaks of the Sierras in between soaks in the silky smooth spring water. Fill up on water, open skies, time for quiet, recovery and connection.
---
---
Every day in Bali is filled with ritual. From the daily offerings left everywhere, to the deep work with healers, you'll be sure to come across an amazing healing ritual in Bali. On Yogascapes' Bali Retreats, in addition to daily yoga and healing foods, we visit our favorite water temple for a beautiful ritual that you just have to try once in your life. We also finish our hike up Mt. Batur by bathing in the natural hot springs that overlook the lake.
---
While each of our Bali retreats have unique offerings, our recent retreat to Bali offered a soak in Hot Springs at Mt. Batur, a visit to Tirta Empul, Bali's most sacred spring pools for a purification ritual. Immerse in local culture with a Boreh class – Balinese ancestral warming balm herbal preparation, and Jamu class where you prepare and taste the traditional curcuma healing drink.
---
---
Experience an outdoor floral bath under a velvet night sky bejeweled with the Milky Way.
We're so excited to be going back to Peru to dive into the rich healing and transformation culture there. Although the archeology, food, scenery and people could easily steal the show, it can't be overlooked that each of those elements has its roots in healing. Whether it be the way that the temples were designed, the nourishment of the food you'll eat, the spectacular healing power of the Andes or the energy of the people, Peru is a place to bathe in healing arts. While many come for plant medicine, that's not the only ritual that can be found. On our Peru Retreat in 2019 we explore Peru and also find time for a Despacho Ceremony, bodywork and one of our favorite treatments, the Solar Baths at Willka Tika. The unique solar baths, carved from stone and set in secluded garden spots, are heated and energized by the sun during the day. At night the water is infused with flowers, medicinal herbs and organic Maras salt.
---
4. AUSTRALIA (KODO MASSAGE)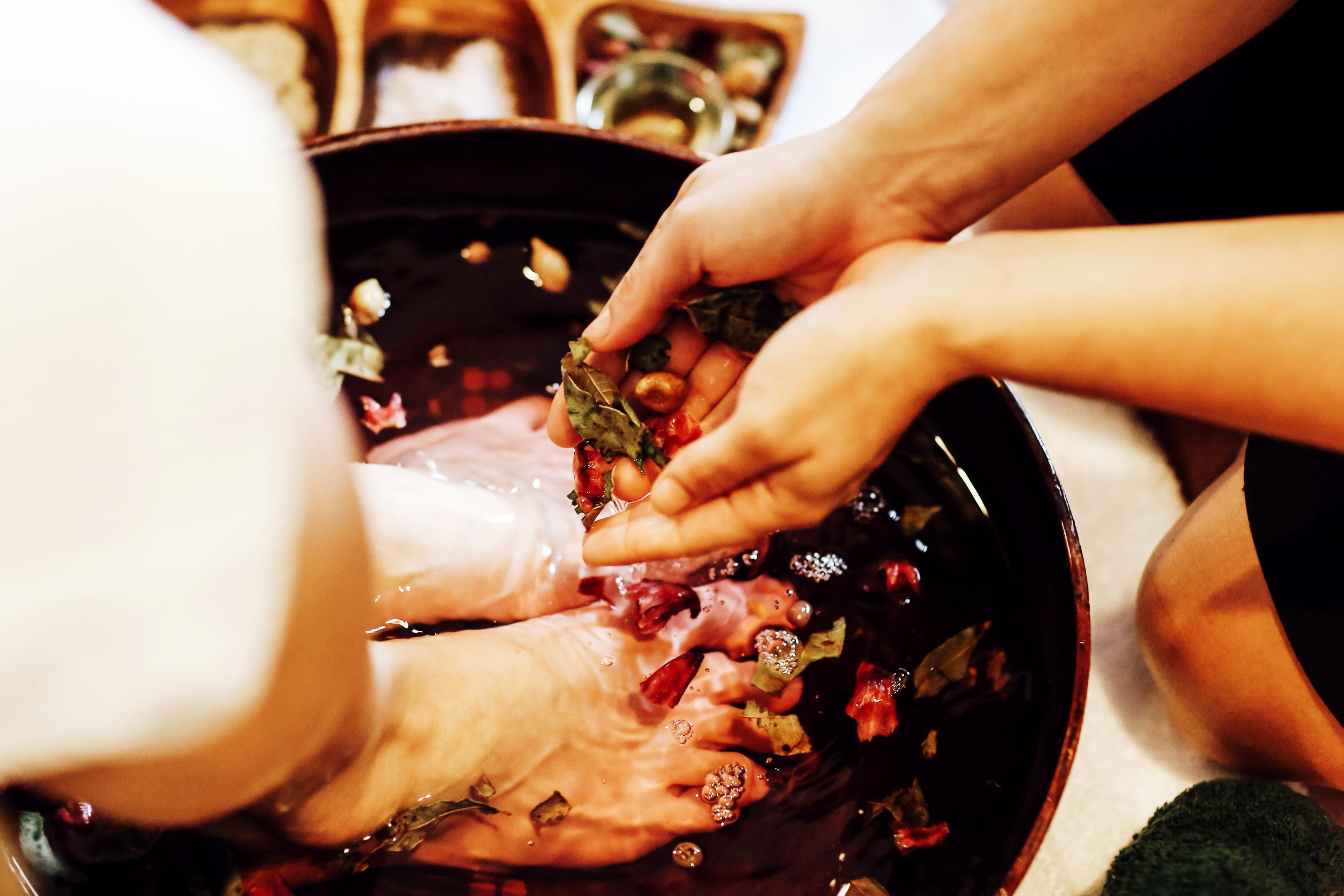 ---
Although being in the oldest rainforest in the world and swimming the Great Barrier reef is enough for any one trip, we thought we would highlight one of the many spa treatments available on our Australia Yoga Retreat. We love finding the local healing modalities and can't wait to try Kodo.
Kodo is a rhythmic body massage inspired by traditional Indigenous techniques, designed to rebalance and re-align energy flow, enhancing mind and body wellness. Using a combination of pressure points and spiraling movements to ground and uplift, this massage will relieve muscular aches and pains while leaving the body renewed and refreshed. A blend of unique native aromatic oils will rejuvenate, harmonize and detoxify.
---
---
We are in love with Morocco for many reasons, however spending time at the local hammam is probably at the top of the list. Each hammam experience is different, so don't come in with too many expectations. What you can look forward to is being bathed, steamed, rinsed, massaged and thoroughly cleaned, making a hammam treatment a great way to start your trip or end one.
---
With so many hot springs to soak in in Iceland, we're happy to have found a unique spa experience that combines two of Iceland's passions, hot springs and beer. Soak in a beautiful tub filled with young beer, hops, yeast and pure glacier water and your skin will feel incredible. Not to mention the tap that's all yours right next to the tub. When you get out you'll be wrapped in blankets and spend time in the nap room or soak in the sauna or hot tubs overlooking the Arctic Ocean. Look for our next Yoga Retreat in Iceland in- we'll be going back!
---
---
Colombia is becoming one of our favorite destinations at YOGASCAPES. We first came to get away from it all and feel what it's like to be on a deserted beach on the edge of one of the most beautiful mountainscapes in the world. What we found were the incredible healing waters of the Sierra Nevadas and the unbelievable Kogi people. This place has the highest mountains closest to the ocean in the entire world and so the waters that run from the snow capped mountains to the see are sacred. We've built a cleansing Kogi Ceremony into our Colombia retreat schedule to get a taste of the healing powers of this land and the people who guard it. The Kogi people are not only protecting their sacred land, but coming down from the mountain to teach us how to help protect the land that is being depleted by all of us.
---
Balance the mind and body, nurture the skin and soul, with our specially designed and wide selection of treatments, such as deep tissue and Thai massage, facials, body scrubs, body wraps, hair and feet therapies, and more. Spa treatments are pure to the core and feature all natural ingredients sourced from the surrounding water and rainforest. Our organic ingredients range from local cacao beans, Costa Rican coffee, purely extracted Osa mud, freshly picked Ylang Ylang flowers, coconut milk and much much more…
---
---
Temezcal, also known as "sweat lodge", is found around the world in many forms.  Even in Mexico, with its diverse landscape and indigenous tribes, every Temezcal is unique. At YOGASCAPES, we've experienced Temezcal in Yelapa, in Baja, and in the Yucatan and believe that it is one of the most healing ways to experience yourself and to experience the richness of a Mexican healing ritual. Find Temezcal on one of our upcoming yoga retreats in Oaxaca.
---
---
---
Just being in Sri Lanka is a healing endeavor in itself, and doing so in Rukgala, eating nourishing Ayurvedic meals, having consults with Sachi and the in-house doctor, and Ayurvedic Massage makes for a well-rounded deep healing retreat.
With this retreat destination you can take a leap into your fullest, most vibrant self with a week-long yoga and Ayurvedic retreat. Journey through the exotic and inspiring landscapes of Sri Lanka with a visit to a tea plantation, a hike through Knuckles mountain range, a trip to the an national park to view elephants, visit Sigiriya Rock, eat the most incredible Sri Lankan food and learn to make some wholesome and delicious Ayurvedic basics, with free time to enjoy the stunning beauty of your lakeside accommodation. You'll also have opportunities to participate in one-on-one Ayurvedic counseling sessions, receive healing body work, paddleboard or kayak in the lake and take an optional cooking class.
---
Be sure to look at the full upcoming retreat schedule to see what's truly calling you for your next deep healing and transformative travels!